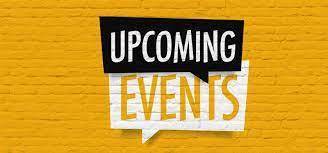 Upcoming Events
Jon Chance
Wednesday, April 07, 2021
Upcoming events for Whiting High School:
Student Picture Days, April 14-16
April 14: In-person underclassmen pictures
April 15: In-person/eLearning senior pictures (Must sign up for a time slot by emailing sstrabavy@scwschools.org.)
April 16: eLearning underclassmen pictures (Students can begin to arrive at 8:15. Photographers will be here until 1:00. Students should use door seven (7) on Oliver Street. They will exit these doors as well. Masks must be worn at all times.)
Underclassmen Picture packets will be sent home with in-person students on Thursday, April 8. Senior picture forms are being sent home with students from their 12th grade English teacher. The City of Whiting will be purchasing banners for graduating seniors to hang throughout the city so it is important to schedule your picture if you have not taken them with Memory Makers. Picture forms are available at door 23 if your student is an eLearner and wants to take pictures on April 16.
SAT Test April 13, 2021 (Juniors ONLY)
Registration closed for this on April 6. In-person junior students have been registered for the test. eLearning junior students that opted to test received a confirmation email on April 6 with the email address they used to register.
An email will be sent to students with details about arrival, proctor information, and where they will test.
In person students were provided an opportunity to pick up a student guide this afternoon at school. eLearning students can pick up a practice guide from door 23.
Senior Sweatshirt and Jostens Order
Any student that ordered a senior sweatshirt from Mr. Liles or ordered items from Jostens will be able to pick up their items on Wednesday, April 21 from 2:00-3:30 pm by the high school concession stand/door seven (7) on Oliver Street.
Baseball at Railcats' Stadium
Tickets for the baseball game against Merrillville next Saturday April 17 at the Gary Steel Yard will be available to purchase in the main office starting Thursday April 8th. The cost of each ticket is $6 and you may purchase an unlimited amount.