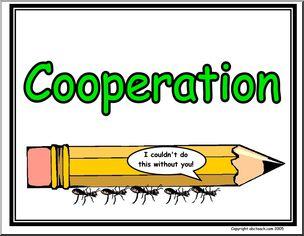 What is Cooperation?
Definition - Cooperation is working together for a common purpose. It's a willingness and ability to work with others to accomplish a common goal.
What does cooperation look like?

People who cooperate:
Model working together with others

Have positive relationships with peers, family, and teachers

Bring out the best in everyone

Make good decisions and choices
What does cooperation sound like?
People who cooperate may say things like:
Two heads are better than one

Let's partner up

We can do this together

Let me try and help