EDIT MAIN
PBIS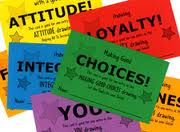 What does PBIS do?
PBIS
Establishes regular, predictable, positive learning & teaching environments
Has clearly defined outcomes
Trains adults & peers to serve as positive models
Creates systems for providing regular positive feedback to acknowledge students when they are making good choices.
Improves social competence
Develops environments that support academic success
What is PBIS?
PBIS Stands for School-wide Positive Behavior Support. It includes a common set of rules and supports which establish the social culture and behavioral supports and motivators needed for all children in a school to achieve both social and academic success.
We must teach our students acceptable behaviors so they will make positive and safe decisions when dealing with problems and situations.
Whole School Behavior Goal:
Students at Nathan Hale Elementary will be successful by following the three behavioral expectations throughout the school day.
School-Wide Expectations:
Be respectful.
Be responsible.
Be safe.