EDIT MAIN
Whiting High School Food Services
(219) 473-0961
Chris Lerma, Food Service Director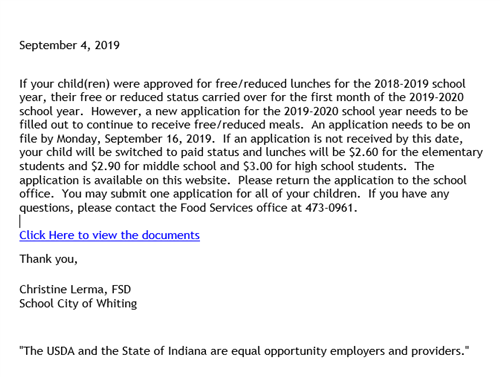 Here are the new 2019-2020 breakfast and lunch prices:
Breakfast
NH $1.55 reduced $0.30
MS $1.60 reduced $0.30
HS $1.65 reduced $0.30
Lunch
NH $2.60 reduced $0.40
MS $2.90 reduced $0.40
HS $3.00 reduced $0.40
Adults
Breakfast $1.95
Lunch $3.65
The high school and middle school students are allowed to charge 2 lunches. The elementary students are allowed to charge 5 lunches. If your student is at these charge limits, they will be given an alternate lunch of a cheese sandwich and a milk three times only. Food Services sends negative balance letters home on Fridays.
My School Bucks
NEW! Pay for Student Meals Online
Dear Parents,
The School City of Whiting is excited to offer MySchoolBucks®! This online payment service provides a quick and easy way to add money to your student's meal account using a credit/debit card or electronic check. You can also view recent purchases, check balances, and set-up low balance alerts for FREE!
MySchoolBucks provides:
Convenience - Available 24/7 on the web or with the Mobile App for your iPhone, Android or Windows phone.
Efficiency - Make payments for all your students, even if they attend different schools within the district. Eliminate the need for your students to take money to school.
Control - Set low balance alerts, view account activity, recurring/automatic payments & more!
Flexibility - Make payments using credit/debit cards and electronic checks.
Security – MySchoolBucks adheres to the highest security standards, including PCI and CISP.
Enrollment is easy!
Go to www.MySchoolBucks.com and register for a free account.

You will receive a confirmation email with a link to activate your account.

Add your students using their school name and student ID.

Make a payment to your students' accounts with your credit/debit card or electronic check.

A program fee may apply. You will have the opportunity to review any fees and cancel if you choose before you are charged.
If you have any questions, contact MySchoolBucks directly:
1-855-832-5226

Visit myschoolbucks.com and click on Help/FAQ's
Thank you,
Christine Lerma,
Food Services Director
Breakfast
The School City of Whiting Cafeteria offers breakfast daily to all of our students.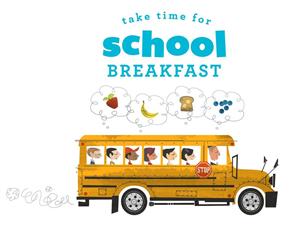 Breakfast is served to all Middle School and High School students in the High School Cafeteria from 7:10 – 7:30. The price for paid Middle School students is $1.55 and paid High School Students is $1.60.
The Elementary students, grades K – 3 are served breakfast in the Nathan Hale Cafeteria from 7:30 – 7:50. 4th and 5th grade students are served in the MS/HS Cafeteria from 7:30 – 7:50. The price for breakfast is $1.50 for paid elementary students.
The price for approved Reduced students is 30¢ at all schools. All approved free students receive breakfast at no cost. The breakfast menu is posted on the right side of the monthly menu that is posted on our website. Everyone is welcome to join us for breakfast!
The USDA is an equal opportunity provider and employer.